Secure, Unlimited Accounting Software

Get Paid On Time And Manage Cash-flow Like A Pro

Simple & Powerful Cloud

Acc

ounting

Software for
SME Business Owners and Accountants
WHAT IS eFolio ACCOUNTS?
Double Entry Accounting
eFolio Accounts is a simple double entry accounting system in the cloud. Quote and invoice your clients and record expenses with ease.
QUOTES AND INVOICES WITH YOUR LOGO
Make eFolio Accounts yours.
Get your logo set up on your invoice and make them look as professional as you are. Its easy and quick to set up.
SAVE TIME
Its fully automated which makes time.
eFolio Accounts is fully automated which creates efficient accounting, and makes time for you to work on other areas of your business.
Get Paid Online with a "Pay Now" Button On Your Invoices
Online Payments:
Set up eFolio Accounts so when you send out an invoice, your customers have an option to pay the invoice online with ease.
___________________
Fully Automated:
Once your invoice is paid online, it will be reconciled automatically for you in your Accounting software. Online payments ensure good cash flow, and automation helps you spend less time on bookkeeping.
Free Trial for 30 days
Take the 30 day free trial and see how easy it is to use the system. Once your set up you can share access with your Accountant or whoever you wish. get access to the entire system, and continue using your account if you go ahead after 30 days.
You do not even have to enter your credit card details to take a free trial. Just sign up and enjoy full access of our system for 30 days. Give us a call when it expires and we can extend your free trial at no extra cost.
SIGN UP NOW FOR FREE
Made for Accountants, Bookkeepers & the Self Employed
Ideal for your business.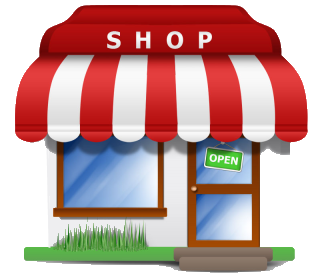 e Folio Accounts – cloud accounting software is designed specifically to make managing your finances and bookkeeping easy and to help you have better cash flow and a more profitable business. Get paid on time with easy invoicing and manage client accounts with efficient built in email for invoicing.
More
Built with Accountants in mind.
We have built specific modules for Accounting Practices & Bookkeepers to help collaborate with clients and see them all on one place on our Accountants module. Become an eFolio Partner and see the benefits to your practice, which include a more profitable business through collaboration with clients.
More
Give Secure Access to
as Many Users as You Wish for FREE

It's Secure:
Your information is shared only with users you appoint. You are in control at all times with whom has access and at what level.
___________________
Collaborate Online:
Add as many users to your account as you want for FREE. Changes you make are updated to other users automatically.
Free Trial for 30 days
Take the 30 day free trial and see how easy it is to use the system. Once your set up you can share access with your Accountant or whoever you wish.
SIGN UP NOW FOR FREE
eFolio Accounts Works On Your Existing Hardware
It works on iPad, Android, iPhone, PC, MAC, the list goes on. We understand that you want to have your data available any time anywhere and on any device.
Send Professional Looking Quotes and Invoices
1. Identify the prospect
Get that prospect into your contacts list.
Once you have added your prospect in your contacts list make all the notes you need when doing your research.
2. Email a quotation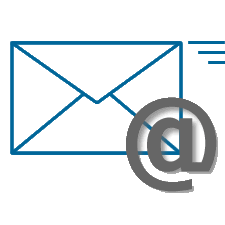 Get to work on preparing your quotation
If you have your products & services in the system getting a quotation out takes seconds. Changing the quote is a breeze too if you have to.
3. Convert to Invoice
Click the Convert to Invoice button
When you get the order convert the Quote to an Invoice in one click!
Easy To Use Software
Beautiful Reporting
Get instant information on your business
Review your financial position from anywhere on any device. Reports are simple, clear and easy to interpret.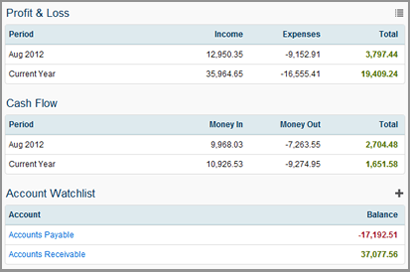 Instant Profit & Loss Report
Immediate Profit & Loss report
Your Profit & Loss report is updated automatically when your data is entered into the system.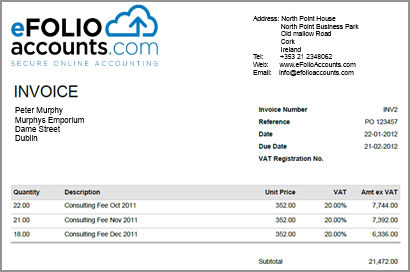 Invoices with your logo
Great looking easy to set up invoices
Create professional looking invoicing and email them to clients instantly. Set up recurring monthly invoices that send automatically.
Some Of Our Clients
La Dolce Vita Restaurant
"W e love using eFolio because its easy to use. All our information is in one place and a number of our managers use it togother."
More
Essential French Language School
"We signed up for cloud accounting in early 2014 because we needed a facility that manages all our bookkeeping in one place".
More
All Accounts Include
Free 30 Day Trial
Unlimited Users
Unlimited transactions
Unlimited free support
Free and regular upgrades
Access from anywhere
Automated backups
Safe and Secure
Export your data
No long term contracts
Cancel at any time
Pay when you're ready
Pay as you go
Share with your Accountant
Fixed monthly price
Work anywhere