Cloud accounting software for Business owners and Accountants
    Partners   Partner Directory    Apply
You & your clients in harmony
Manage all your clients Accounting needs from one place. Our business partners can invite clients to eFolio and they can log in through their own website. Benefit from volume discounts today by signing up as a volume partner.
Features
Unlimited Users, Invoicing & Data
Share your data with your Accountant, Business partner, Bookkeeper or Secretary – unlimited users and transactions at no extra charge.
Great Support
Extensive help documentation and direct access to our support team via our Support Ticket Help Desk. We're here to help every step of the way.
Safe & Secure SSL Encryption
SSL protection, regular off site backups and sophisticated firewall technology ensure that your data remains confidential and secure at all times.
Comodo EV SSL Encryption to protect your data.
Daily backups taken of all data automatically.
No saved passwords.
Unique User Permissions set by you.
See For Yourself
Take a 30 day free trial so you can see just why our cloud based Accounting Software is the best value for money on the market. Our development path is chosen very carefully to make sure that our software does not become bloated and difficult to use. Our mantra is, and always will be, "Keep It Simple".
Free Trial for 30 Days
Impress your Clients
Invite your clients to eFolio or be invited by your clients if they are existing users. Provide them with rich reports and help them manage cashflow. Your clients will love the rich reporting features of eFolio and love you for providing them with a world class system that is trusted by Accountants and Bookkeepers worldwide.
More Features
Beautiful Reporting
Get instant information on your business
Review your clients financial position from anywhere on any device. Reports are simple, clear and easy to interpret.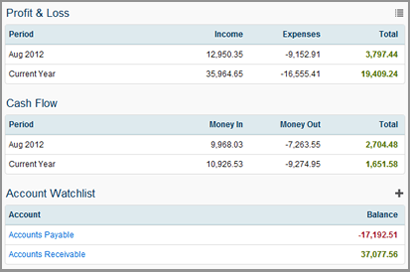 Instant Profit & Loss Report
Immediate Profit & Loss report
Your Profit & Loss report is updated automatically when your data is entered into the system.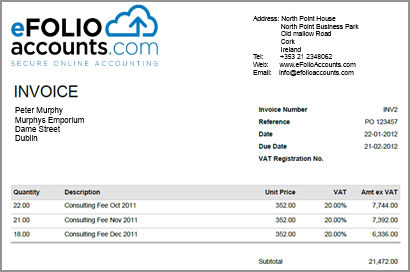 Invoices with your logo
Great looking. easy to set up invoices
Create professional looking invoicing and email them to clients instantly. Track and record payable invoices too.